All in God's timing – by Ashton Barton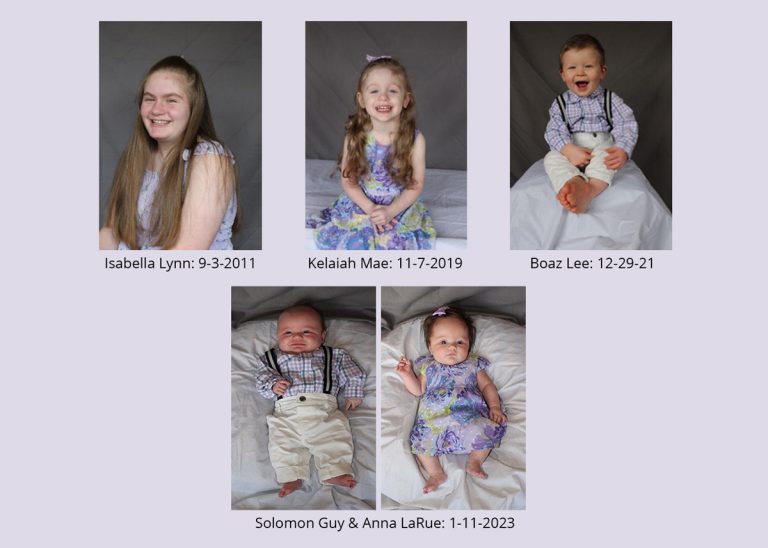 Hello, my name is Ashton Barton. I'm 35 years old, wife to a good Godly man, and a mom to not 1, 2, 3, or 4 but 5 beautiful babies.
My husband and I got married on October 9, 2010, which I was 22 years old at the time, and he was 22 years old as well. Shortly after being married, I found out March 3, 2011, that I was pregnant and we were just over the moon, but also seemed like it was surreal at the same time. All I ever wanted since I was a little girl was to be a loving wife to someone who would accept me for who I was and what I had and being a mom.
She's here
I can always remember being at the doctor's and telling them that is all I ever wanted to do. I was just never into college after graduation and the career things. I was never that type of person who thought that being important in life meant pursuing college and having a career. If I was meant to do that then I knew that God would put that in my path. And in the end, it turns out that wasn't the path he had chosen for me.
So, at the age of 23 years old I gave birth to our first child… IT'S A GIRL!! During the pregnancy I had been sick off and on, did a lot of home IV medications as well. But I got through it (even though it was a scary time for myself and I'm sure for my husband as well) and things turned out the way God wanted them to.
Our daughter was born at 31 weeks and yes, that was scary being she was 31 weeks, and I still had some time to go. My due date with her was November 3rd and I had her September 3rd. So, she is my Labor Day baby. And I do have people say I give a whole new meaning to the term "Labor Day" (lol) God knew that if I didn't have her then that something could have gone wrong, and she wouldn't be here or neither one of us wouldn't be here.
Something big is happening
Now I want to say that when I tell you that she made a GRAND entrance into this world, I kid you not… This was a very GRAND entrance she made into this world when she was born. And I'm sure that once I tell this part of my story it may seem like you wouldn't want to have children. But I can assure you that after it happened, I was just glad that she was here, happy and healthy and just needing to grow. To make things short, she was born at home (which wasn't planned at all), she was breech, I had ZERO pain meds, her dad (my husband) delivered everything but her head since she was breech.
Hello little one
My water had broken with her, which me being a first-time mom and not really understanding all the pregnancy things didn't realize that is what had happened. So anyways my water broke at 10:29pm, I had TONS of pain and pressure and realized that she was coming. We called 911, so we have paramedics here to help deliver her as well. By the time things were under control she was born at 11:23pm. So, there was just no way of getting to a hospital since she was already coming. I will still remember to this day laying on the Livingroom floor and my husband right there helping her to come out, my father-in-law coming down to the house and getting down to my side and telling me "Things will be ok". When she was born, she weighed 2lbs. 3oz. And was 14" long… so about the size of a babydoll.
Memories come flooding back
That night I can also recall having 2 helicopters there (who had to transport us to the hospital after she was born), 2 ambulances so they were able to work on us both, and the fire department to help guide the pilots of the helicopters so there didn't go near the wires.  oh yea, we also had our neighbors from across the road running down the driveway because they could see and hear all the sounds from the ambulances, fire department and the helicopters.
The NICU days
Our daughter had stayed in the NICU for a total of 39 days (about 1 and a half months) where she was able to get the nutrition that she needed and grow. That was the longest 39 days of my life, but it was worth it to watch her grown up here at home. I had been in the same hospital she was at for 2 weeks since I found out that I was sick with pneumonia. It was also hard when I was able to go home and she wasn't able to go home with me, but l know it was for the  best and in Gods plans because he knew that in order for me to take care of her I needed all the rest that I could get in order to feel better and care for her.
Hard times
A couple years later after our 1st daughter was born, we had gone through a rough patch of trying to have another child. We had gotten pregnant 3 more times and they all ended up in miscarriages. Losing a child at ANYTIME, whether you gave birth and they passed, or you just carried them in your womb is very hard to go through.
Child #2 on the way
At the age of 31 I had my 2nd child who ended up being… A GIRL!! During that time, I was going through a series of health issues and was in and out of the hospital during that entire pregnancy. Almost a month after giving birth to her Trikafta was given to me (December 6, 2019).
Over the moon
December of 2021 our 3rd child was born and this time it was…. A BOY!!! We were so over the moon because we had 2 girls and were expecting to have another girl. At this time my health was GREAT, and I had made it to 36 weeks which was a record for me being my last 2 were very early. I had been induced because he had no more room to grow since I'm such a small person. I was still able to take Trikafta while pregnant which was a blessing since I was doing so well with it. I had ZERO health issues while pregnant with him. And that was an amazing feeling to know that I didn't have anything wrong at the time and I was also able to carry to full-term. Yes, I know to everyone full-term is 40 weeks BUT back in the BIBLE days and up until a few years ago 36 weeks was full-term. So, I go by my calculations not a medical staff. I was able to have a natural delivery just like anyone else going in to have a child. And that to me meant a lot because of all the problems that I had in the past.
Big shocking news
So, let's fast forward to January of 2023, that is when I gave birth to a set of TWINS! Yes, you read that right… I was pregnant with a set of twins! This was very shocking to us when I found out that I was pregnant with 2 babies now. It took some time to convince my husband that I wasn't kidding around about this. But it didn't help that as I was telling him I was also laughing, and I guess I made it seem like I was just kidding around. And it was very hard for the rest of the family to comprehend because it was me, the one who has all the health issues, and twins aren't really a common thing to have. Yes, people have twins but it's not an everyday thing to have. So, in January I gave birth to another GIRL and BOY!! I had gone to 33 weeks with them and suffered from severe pre-eclampsia, so they had to be born sooner. But all the doctors and staff said they were very happy and pleased that I made it that far with twins. They had told me that a person who doesn't have a lung condition and other health issues really doesn't make it to 33 weeks either.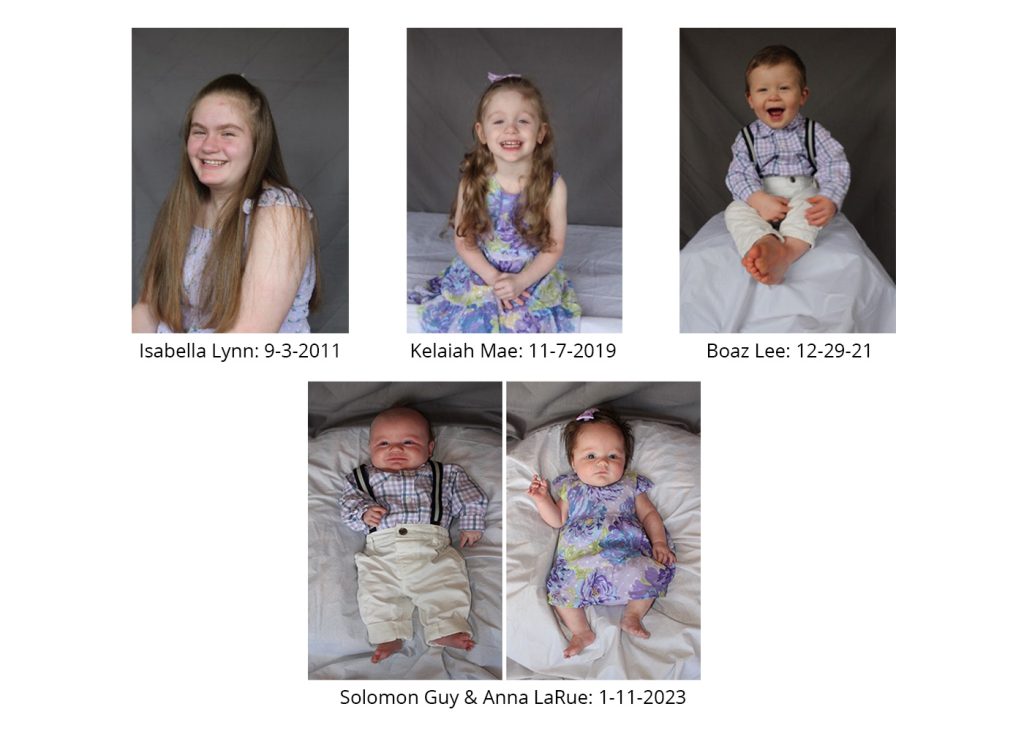 My fears come to realization
One thing that I feared the most with all my children was having a c-section. I was very thankful that I didn't have one with 3 of my children, but being I was having twins and they had to be born sooner, a c-section was necessary. I knew in the back of my mind that things wouldn't go the way I had wanted them to and just kept thinking in the back of my mind that having a c-section would be a bad idea. But like I said, the doctors said that was best at the time. So, I had gotten the c-section done and exactly a week later I had to have emergency surgery and had to be reopened where I had the c-section for an infection that had settled. I was just so upset over it and in pain from all of it.
It took some time, but I did heal from that, and I do have some pain sometimes that I think may always be there and I also have an area that I'm not sure if I will ever get the feeling back. But I will say that I'm just happy that my twins are good, and they are healthy just like the rest of my children.
Never lose faith
I've had my share of scary moments in life and my share of things that I didn't like at all in my life (like losing 3 beautiful babies who I know I'll get to meet here very shortly). But to really see the bigger picture, I had 8 years of wanting to have more children and never wanted to follow what God had in store of me and wanted to go my own path.
God's timing
He knew that in such a year, month, day and specific time I would be given a medication that would change my life if I was just patient enough to follow His plan. I had my 2nd daughter on November 7, 2019. I was discharged from the hospital to go home after being there for 2 weeks, got sick again and ended up back in the hospital, and at the time that is when Trikafta was introduced to me. I remember taking the first pill and thought I was going to die a few short hours later and telling my husband I couldn't do this. He told me that God had brought me this far and I needed to just hold out a little longer and I would be good.
Encouragement
It was my husband's encouraging words and the strength of God that I made it past that very hard part in the beginning of taking Trikafta, and God knew that my health was going to be better than ever, and He blessed me with 3 more babies in a small amount of time.
The last good-byes
December 9, 2019, I walked out of the hospital and said my final good-bye to the staff and have never looked back since. And that is the day I became a full time stay at home mom. The point to my story is that NONE of this would have happened in my life if it wasn't for my Lord and savior Jesus Christ.