About Us – a Cystic Fibrosis community
WHY JOIN US?
CysticFibrosis.com supports the largest and oldest global Cystic Fibrosis community on the web, founded in 1996, comprising patients, caregivers, healthcare professionals and industry service providers.
We believe in harnessing the knowledge of the patient and caregiver community to achieve participatory healthcare. Our CF community holds a wealth of knowledge on the disease, challenges they face and possible solutions they envision.
Here is what some members are saying:
"CysticFibrosis.com allows me to connect with the CF community like no other way I have ever seen. It's easy, fun and most important I am one click away from someone who knows what I am going through" – Emily, 27 w/CF
"I think it is safe to say that I learned 90% of what I know about CF from this site. I honestly don't know where I'd be without it" – Mother of 3 year old w/CF
Quick Stats:
Largest online CF community – 18,000 community members
Members in 122 countries
Over 2 million member post
Over 13,000 newsletter subscribers
Our site is super moderated by Health Opinion Leaders: Ratatosk, Triples15, TwistofChaos, LittleLab4CF, Jaimers, Dank and Gammaw, 2005CFmom, LouLou, Beautifulsoul, Ethan508, Rebjane, Aboveallislove.

Jeanne Barnett    
Founder and involved in the daily operations of cysticfibrosis.com since 1996, Jeanne is a graduate of Fordham University (Lincoln Center) NYC. Jeanne is a teacher by profession, having spent many years teaching high school math and computer science. She is a well-versed patient advocate with a pioneering sense of the web's potential to improve health care. Her expertise with the community has given her an understanding of the complex issues that patients with cystic fibrosis face.  Her patience and curiosity allows her to easily identify and address the needs of patients needing innovative technical solutions.
She has a proven record of stimulating the patient base and has listened to their stories for going on 20 years. Skilled in preparing and delivering comprehensive presentations to professional audiences, Jeanne has presented to professionals at the EyeforPharma Patient Summit USA in Philadelphia December 2014, where she also chaired the event, and exlpharma ePatient Connections in Philadelphia September 2014. She was nominated for the Robert Wood Johnson Community Health Award and won the Pharmaphorum Award for Patient Centricity.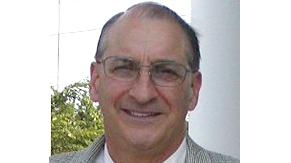 Peter Barnett DPT, OCS
Co-founder and treasurer of CysticFibrosis.com, Peter Barnett is a veteran of the Vietnam conflict, husband of Jeanne Barnett and a Doctor of Physical Therapy. Peter is a graduate of University of Vermont, Columbia University and Simmons College.
Peter has had a private physical and occupational therapy practice in New Jersey since 1977, www.suburbantherapy.com.  Peter is an Orthopedic Clinical Specialist and a master clinician.  In addition to his musculo-skeletal knowledge, he has expertise in posture and TMJ (temporomandibular joint disorders).
He was the original f0under of cysticfibrosis.com and continues to be its most enthusiastic backer.
He keeps ground in his personal faith as a Deacon at Marble Collegiate Church in NYC, the home of Norman Vincent Peale and the Power of Positive Thinking.
Mary Helen Camporeale   Senior Accounting Manager
Mary Helen graduated from Fordham University in the Bronx with a business degree, including a dual concentration in Information Systems and Finance. She has been managing accounting at ML Burke Consulting since 2000.
Well-versed in QuickBooks, she assists with financial management at ML Burke Consulting, Inc., Suburban Therapy Center, and the Children's School.
Mother of three active children, she volunteers her time in their school PTA and after school, coaching soccer, basketball, and softball.
She has served on their preschool as an executive member of the Board of Trustees and also as an executive member of their primary school PTA.

Member "StyleComfy" – CF member and blogger
She was born in 1978 and was diagnosed with CF at 6 months of age. With a background in Fine Art, Education and Graphic Design, she helps out with numerous tasks around the cysticfibrosis.com site.