Coping with the Loss of a Spouse from CF
Guest Blog
We strive to be optimistic about life with CF, but loss of a loved one is a harsh reality.  A  member of our community reached out to us at CysticFibrosis.com in hopes of sharing his experience as a spouse of someone who lived with CF.
Jesse and Ashley's Story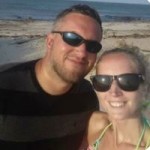 Shortly after my fiancée, Ashley, told me about her cystic fibrosis, we were engaged. Months later, she passed away, leaving me to figure out what I could have done differently and how to cope.
Although Ashley and I met in June of 2015, it wasn't until we told each other "I love you" and began talking about moving in together that I learned she had cystic fibrosis. I had suspected she had some health condition long before, but I never suspected Ashley had CF because I didn't know what it was. After she told me, I knew that our relationship would change, although my feelings for her didn't. What changed was that I became the partner of someone with CF.
A few months later, we got engaged, looked at forever homes, and talked about trying to have a baby someday. I began to educate myself about CF and Ashley began to open up to me about it. She realized that we were a team and I would be by her side for every second of the fight, no matter what.
Just when I thought I was starting to finally wrap my head around all this CF stuff, Ashley got really sick and was hospitalized with an infection. We thought we had turned a corner, but unfortunately, the infection wouldn't let go. After a month-long fight in the intensive care unit (ICU), Ashley passed away three weeks shy of her 30th birthday. It felt like we went from lying on the couch watching TV together to her funeral in the blink of an eye.
Looking back, the signs of a decline were there. She was getting more infections, losing weight, and having a harder time doing the things she was accustomed to. During the last month of her life especially, her struggle had become a topic of daily conversation. I can see these signs in hindsight — and could see some of them at the time — but in the moment, I always thought she was okay and we'd get through it. I don't think she truly knew how sick she was until the last few weeks.
It's because of how healthy she seemed to be that I took my cues on how she was doing from her. She said she was okay and I accepted that. I still did not know enough about CF, or living with someone with CF, to know or deal with it any better than I did. Perhaps I was also a bit afraid of knowing the answers to certain questions. I wish I had asked some of these things sooner, and I implore you that if you are in a similar situation to be persistent and ask those questions. She was forthcoming with me, but I think she had always felt like CF was her problem and wanted to deal with it herself, which meant refusing to let it govern her life or her relationships. That's the type of person she was. As a partner of someone with CF, it's incredibly important to be involved in the treatment process and get informed as much as possible. Teamwork is vital to keeping your spouse as healthy as possible.
Ashley lived her life on her terms, and not CF's, and accomplished a great deal in her short time here with us. I wish we would have had the future we planned, but I'm grateful for the time we did have. I would not change a thing aside from learning more about CF earlier, so I could have been more involved in her care. People with CF have to deal with a lot of challenges on a daily basis and seeing someone like Ashley's perseverance and zest for life was incredibly inspiring because, as someone who does not have CF, we sometimes forget to be thankful for simple things we take for granted. It has sparked something in me to help and do more that I didn't know was there.
That month in the ICU was the most difficult time of my life. The year since she passed has not been much easier, but time has helped to heal. Thankfully, my friends and family, including Ashley's family, have been a great support. I also saw a counselor for the first few months after the loss and joined — and actively engaged with — numerous online groups geared toward CF and spousal loss in general, all of which have been extremely helpful during the grieving process. I also engaged with the Cystic Fibrosis Foundation and its local Massachusetts / Rhode Island chapter, and have volunteered at many events. I have enjoyed meeting others who have been affected by this disease and who are devoting their time to helping to find a cure. I have also reached out to numerous other organizations in an attempt to do what I can in the fight against this awful disease. Exercise has also been incredibly helpful for me as it is incredibly great for the mind and staying active.
Ashley's Legacy
Her family and I started a non-profit organization called the Breathe for Bea Foundation to honor her memory while at the same time achieve our mission of helping to make the lives of individuals and their families in Massachusetts and Rhode Island that are battling this life threatening disease more manageable by providing financial assistance and support. Through this I have been fortunate to meet others with CF and their families, which has been really rewarding. Unfortunately, there is not a lot out there in terms of support for spouses of those with CF specifically, and I hope that changes someday because it's clear to me that CF spouses are in a unique situation, and we can benefit from the wisdom and experience of others like us.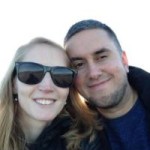 About the Author: Jesse was engaged to a beautiful woman, Ashley Briggs, who passed away in early 2017 due to complications from cystic fibrosis. He lives in Plymouth, Massachusetts. Jesse earned a bachelor of science degree in business administration at Bryant University in Rhode Island, and a master of business administration degree at the University of Massachusetts Boston, majoring in marketing. You can learn more about the foundation her family has created in memory of Ashley, the Breathe for Bea Foundation, which is focused on helping other families like theirs fight Cystic Fibrosis, by visiting BreatheforBea.org. You can also email Jesse personally at jdacosta@breatheforbea.org.