It's Been a Good Life Dad: My Son's Struggle with Cystic Fibrosis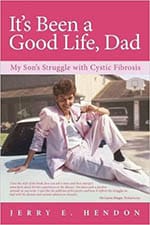 It's Been a Good Life Dad: My Son's Struggle with Cystic Fibrosis by Jerry E. Hendon
Author Jerry Hendon writes:
I have written a book about my son, Kevin, who died of cystic fibrosis in 1986 at age 18. The book, It's Been a Good Life, Dad: My Son's Struggle with Cystic Fibrosis, is now available on Amazon and Barnes and Noble in both soft back and digital copies. It is also on iUniverse in paperback copies.
On Amazon, one can flip the picture of the book to see both the front and back cover. On the lower left of the back cover, note the small content that indicates the book was an iUniverse Editor's Choice book. It was one of four books selected out of one hundred books considered in August of 2015 for the non-fiction category. Apparently that is a pretty good indication about the book being a good one.
The book has four parts. Part 1 is the story of Kevin's life. Part 2 is Kevin's writings. Part 3 is memory letters received after Kevin died. Part 4 is about the legacy of Kevin.
Kevin was a poet. There are about eighty pages of Kevin's poetry. Nearly everyone who has had a part in helping me write and publish the book has commented on his poetry. I believe you will want to read it. There are also several of Kevin's other writings included in Part 1 of the book.
One of the interesting stories about Kevin's life is the time Van Halen came to visit him in the hospital. If you want to see the video of that visit do a search for 'Van Halen Visits Kevin Hendon.'  As of today, there are over 21,000 views of the video. The book tells the story of that visit and what Van Halen did to followup with Kevin after the hospital visit. If you are  a Van Halen fan, you will be impressed.
If you read the book, please post a review, but be honest in your assessment. I don't think you have to enhance anything. The book stands on its own. Share what you liked, didn't like, etc.
At this point if you haven't read the back cover of the book, please do so to help you decide if you want a book.
Also, read the reviews being posted.
I believe you will want to read the book.
Regards,
Jerry Hendon