Better Lung Scanning Technology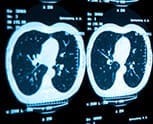 New scanning technology which will give a much clearer picture of lung disease has taken a major step forward thanks to scientists at The University of Nottingham.
The experts at the Sir Peter Mansfield Imaging Centre have developed a process using specially treated krypton gas as an inhalable contrast agent to make the spaces inside the lungs show up on an Magnetic resonance imaging (MRI) scan. It's hoped the new process will eventually allow doctors to virtually see inside the lungs of patients.
Traditional magnetic resonance imaging uses hydrogen protons in the body as molecular targets to give a picture of tissue but this does not give….Read More