Miracle Flights: free medically-related air travel for ill patients, including for Cystic Fibrosis treatment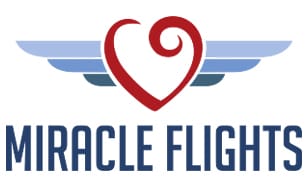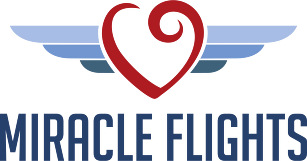 Struggling to cover the cost of air travel to receive your medical care? Miracle Flights assists patients through free commercial air travel to obtain special medical care. Read more about this fantastic organization and how to apply below…
Blog article written in conjunction with Brooke Freeman, Community Outreach Officer at Miracle Flights
Who are Miracle Flights?
Miracle Flights is a 501(c)(3) nonprofit organization that provides free commercial airline tickets to seriously ill, low income patients for care in the United States, either through local or international flights. This includes patients with Cystic Fibrosis, so they may receive treatment and visit specialists for life-saving medical care and second opinions.
Miracle Flights has over three decades of service to families in need. Since 1985, Miracle Flights has logged nearly 59 million miles, crisscrossing the country and the globe to shorten the distance for numerous children and adults in need of critical care. The organization has received numerous accolades and has coordinated more than 100,000 flights! Within the fiscal year 2015-2016, their average number of flights per month was 600-700.
How it works
Miracle Flights offers 3 Programs
Domestic U.S. Program: Qualifying families can receive travel assistance for the child patient and up to 2 parents or legal guardians. Flights for adult patients (ages 18 and up) are provided for the patient and caregiver, if medically necessary. Applications should be submitted a recommended 14 days prior to departure.
International Program: Travel assistance is available to qualifying families with a medical appointment at a licensed U.S. medical facility and up to 1 parent, legal guardian, or caregiver, if medically necessary. Applications should be submitted a recommended 30 days prior to departure.
Service Dog Program: Miracle Flights provides free medical air travel so that children and parents can retrieve service dogs and/or attend the required training sessions. Flights are provided for patients of all ages, as well as 1 parent, legal guardian or caregiver, if medically necessary.
How often may the same patient receive assistance, and what type of visits would be considered?
Qualifying applicants may receive assistance as often as needed. Air travel to receive medical care can include any evaluation, treatment or follow-up appointment needed. Many of the patients who receive assistance from Miracle Flights need to travel multiple times throughout the year.
How far and to which medical facilities may patients be transported?
Flights are usually requested for longer distances where road travel is not ideal or possible. They fly patients to their preferred place of care, however local and treatment-site physician confirmation letters are required for each Miracle Flight application.
They do not have any particular restrictions on distances or countries. While it is only for receiving care in the U.S., it is possible to fly a patient in from any country, so long as that country offers commercial airlines and there are no legal or other limitations.
Patient criteria
Medical criteria:
There is no severity or other medical criteria to be met. They just require a Medical Referral Certification letter, which should be completed by the patient's local doctor and a Medical Appointment Confirmation letter to be completed by the treating doctor.
As all flights take place on commercial airlines, the patient must be medically fit to be safely transported on commercial aircraft. This forms part of the physician referral letter, which will need to be completed.
Financial criteria:
Flights are subject to household income eligibility with supporting documentation. The household income requirement is reviewed on a case-by-case basis, and takes medical expenses into account.
If you are in need of this assistance, rather contact Miracle Flights and speak to a flight specialist to get more information before submitting your documentation.
Ways to apply or make contact with Miracle Flights:
If someone is unsure if they would qualify for a flight, we suggest they call our flight department directly with any specific questions.
Via the phone: Families can contact our flight specialists with any initial questions before submitting any documentation.
Via the application form: The application form can be printed from the Miracle Flights website and faxed/emailed to their flight specialists.
Via an Agency Referral Form: Relevant medical professionals, social workers or support groups can also contact Miracle Flights to refer a patient via the Agency Referral Form (also on their website). Once Miracle Flights receives this one-page referral, they will reach out to the family and walk them through the application.

For more information
Phone: (800) 359 – 1711
Email: flightspecialist@miracleflights.org
Website: miracleflights.org
Application forms can be found here: http://miracleflights.org/request-a-flight/4158924
Download the one-page Agency Referral Form here.
Support this great organization by liking them on Facebook and following them on Twitter.
– – – – – – – –
Read these stories of patients with Cystic Fibrosis who have been helped by Miracle Flights!
MILES' Story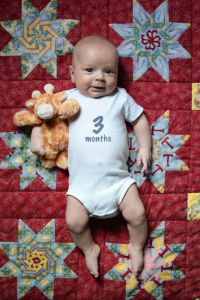 Miles just turned 3 months old.  He does not have much of a story as of yet, but here is a little bit about him.
He was diagnosed with Cystic Fibrosis at 5 weeks old.  He lives in Fairbanks, Alaska with his mom, dad, older brother, and sister.  So far, he is as healthy as can be and doing great!  He has started to smile and laugh, and is quite chatty.  He loves to be with the family and is very social.
Because of his condition and where we live, he has to travel to Anchorage each month for his first year to visit a special team of care providers.
Thank you so much, Miracle Flights, for your help with the flights.  You have no idea the tremendous weight this takes off my shoulders.
Miles' mother
Alaska
– – – – – – – –
KORINNA'S STORY
Korinna was born with a life-threatening genetic disease called Cystic Fibrosis.  She has had many lung infections and hospitalizations due to this.
When she was 2 years old, Korinna began vomiting a lot.  We thought it was just another stomach virus.  We ended up in the hospital emergency room because she was getting dehydrated.  They ran some blood work to check her hydration status and a few other things.  The blood test showed that she had elevated amylase and lipase.  She had pancreatitis.
Since then, Korinna has been in the hospital many times for pancreatitis.  She has had to stay anywhere from a couple days to 7 weeks.  It has now reached the chronic stage.  She is in pain every day.  Her pancreas is chronically inflamed and she also has built up scar tissue in the tail of her pancreas.
We are taking Korinna to the University of Minnesota Amplatz Children's Hospital to be evaluated for a total pancreatectomy with islet cell transplant.
Korinna's parents
Maryland
– – – – – – – –
DARRIN and SCOTT'S STORY
Darrin, age 11, and Scott, age 7, were both diagnosed with Cystic Fibrosis before they were a month old and are in the need of an evaluation for a lung transplant.  They both are seen at All Children's Hospital in St. Petersburg, Florida, but the hospital is unable to perform lung transplants on children this young.  Therefore, the boys must be seen by another doctor who is out of state.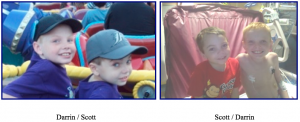 Since the doctor is out of state, we must fly back and forth for doctor appointments at St. Louis Children's Hospital in St. Louis, Missouri.  Our family needs help with the air travel so we may take the boys to the evaluations and appointments.  This is why we are requesting help from this amazing organization so we can make these appointments happen for them.
Darrin and Scott's parents
Florida
– – – – – – – –
DARRYL'S STORY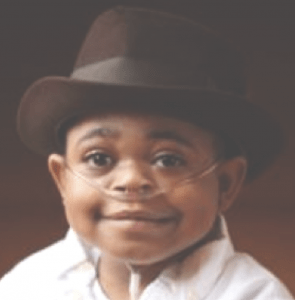 Darryl underwent a liver transplant as a toddler and then received a diagnosis of Cystic Fibrosis (CF), an inherited disease mostly affecting the lungs, pancreas, liver, intestines, sinuses, and reproductive organs.  It causes the body to produce abnormally thick and sticky mucus that builds up in the breathing passages of the lungs and in the pancreas, the organ that helps to break down food.  People who have CF have inherited two defective CF genes, one from each parent.  The parents likely don't have the disease themselves.
Darryl's condition took a turn for the worse recently, with doctors in Atlanta sending him to Texas for a double lung transplant.  Darryl underwent a bilateral lung transplant in February of this year at Texas Children's Hospital in Houston, Texas.  He must continue follow-up care with immunosuppression management by the transplant team.
Darryl's mother
Georgia