Tamika Grubbs RN Here to Help our Cystic Fibrosis Community!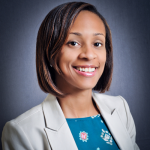 Hello, my name is Tamika Grubbs and I am a CF nurse consultant with over 4 years of experience. In the past, I served as an Adult CF coordinator for Central Florida Pulmonary Group, CF Clinical Regional Specialist and CF Manager for Kroger Specialty Pharmacy (formerly TLCRx Pharmacy). I am the founder of Cystic Fibrosis Continuity of Care, which aims to provide better patient care for all involved. I hope to contribute positively to your journey and this community. I believe education and awareness leads to progressive action.
Who is Tamika?
"Tamika Grubbs is passionate about solving the often daunting maze of coordinating medical care for people afflicted with cystic fibrosis and other breathing conditions. She has channeled that passion into founding Cystic Fibrosis Continuity of Care, a unique consulting and advocacy firm that aims to facilitate better connections of patients' care by hospitals, pharmacies, home health organizations, specialist physicians and other healthcare services."
Read More:
http://www.orlandomedicalnews.com/nurse-advocate-breathes-new-life-into-cystic-fibrosis-care–cms-876
Tip From Tamika Today…
Just a case you didn't know. An annual $15,000 grant is available for CF treatments. There are some income restrictions.
The Cystic Fibrosis Treatment Fund is designed to assist eligible people living with cystic fibrosis with cost-shares associated with FDA approved CF-specific treatments and some related treatments.
Link to apply:
https://www.healthwellfoundation.org/fund/cystic-fibrosis-treatments-2/
What is Covered:
https://www.healthwellfoundation.org/wp-content/uploads/2017/04/WhatisCoveredUnder_CFTreatmentFund.pdf