Cure-E-Us: Imogene at the World Orphan Drug Conference 2018 Part 1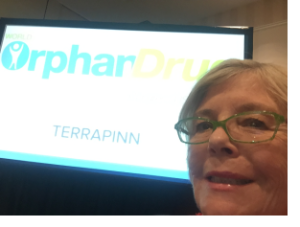 World Orphan Drug Conference 2018, April 25-27
(Part 1)
Getting to the Conference!
I drove from northern NJ …5 hours along the tiresome NJ Turnpike, over the Delaware Memorial Bridge, through Delaware which seems like the wink of an eye and then through Maryland, only to get confused…is it 695,95, or 295…how do I get to Alexandria Va?  The big question for me is "Should I trust GPS?"  more and more it seems she is getting smarter! Is it through Washington DC  NO it isn't!  I should have stayed on Rt 495 just two more exits and I would arrive at the AirBnB where Jonathan would be waiting for me.  I had never been to an AirBnB and now I was a bit nervous realizing that though Jonathan had great reviews, I did not know the neighborhood.
Hey, I love adventure and since I was bringing the results of our survey (Discovery, Research, and Profit)  1200 participants from the CF community I realized many people had worked to get me "ready" for this week's journey and I could handle anything!
I soon found I was "safe"!  The AirBnB was all it was hyped to be…lovely and clean and safe!
Jonathan and his mom greeted me and were gracious hosts.  I just hoped I was kind and responsive to their attention.
Really, I had stopped at a liquor store and had my trusty "19 Crimes, Sheraz"  for my allotted one drink a night, to relax and hopefully fall asleep.
Pre-Conference Workshops
On the morning of April 25th, I realized that this was the day of the workshops.  Not knowing exactly the difference between the actual conference and the workshops before the conference, I quickly found the Gateway Hotel Conference Center in Maryland just two stops back up the freeway and looked for parking. Parking at the hotel was $30.00 for the day, and I found a cheaper spot closeby for $20.00 per day.
Now, to find the workshops.  The conference center is so big; there were several conferences going on!
I found the World Orphan Drugs Conference up the escalator.  There I met Claire Murphy, the face of the conference.  The lovely woman I had emailed so many issues of my presentation, I am sure I made her dizzy.   She gave me the  lanyard, with my name on it and the words:  cysticfibrosis.com SPEAKER.
This would be my all important identity for the next few days.
Now on to the workshop.  The one I chose was a workshop titled 'Ensuring success of rare disease drug development', presented by ICON. They are a CRO.  I really know little about CRO's but I was about to learn a LOT.
From Wikipedia: A contract research organization (CRO) is an organization that provides support to the pharmaceutical, biotechnology, and medical device industries in the form of research services outsourced on a contract basis. A CRO may provide such services as biopharmaceutical development, biologic assay development, ..
This is important information for the community, because Pharma hire CRO's to set up the Clinical Trials for our community.   So often, when members are disappointed with the activities involving Clinical Trials, it may be the CRO's immediately involved.
All morning I had only one "take away" as 3 or 4 of the chief people from ICON spoke:
They are now PATIENT CENTRIC.  This may mean they go to patient homes, they hold their hands, they gather them together and they WANT to know what patients think. OK, I get it.  And I thought, hasn't this always been the way?  But no it hasn't.  They were presenting as though this is a NEW thought and they wanted to be the first who finally understands!
On to the Real Conference
The conference was very big, with over 250 speakers.
Firstly, at the Patient Advocacy Room, I met Helen Malherbe of the Genetic Alliance of South Africa. Helen's group is having their own Rare Disease Conference in Johannesburg in September.
I present to you some videos I took of the CEO of the CFF, Preston Campbell for his presentation titled: 'Patient advocates taking a real stand in drug development: how the Cystic Fibrosis Foundation worked with biotech and pharma' :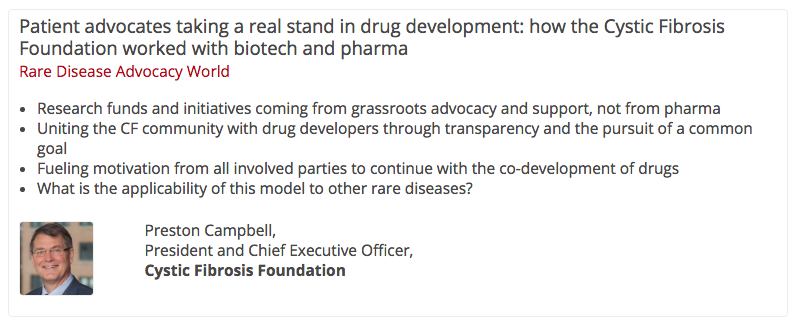 His presentation was very well attended.  It was a large room and his slides were good. I took several videos.  In this one he is giving the history of the CFF prior to 1989.
Stay tuned for Part 2 of the World Orphan Drug Conference 2018